How To Effectively Communicate Finance Data To Internal Stakeholders
We've put together some helpful advice detailing proven strategies for communicating intricate financial data effortlessly across various departments. With practical tips on automation, we demonstrate how you can streamline data processing, enabling you to focus more on data analysis and less on crunching numbers.
If you're reading this you probably already know how important it is to get your organisation's financial data into the hands of those who need it within your business. It can empower improved decision-making, better risk management and help motivate employees to meet crucial goals. However, it's not always easy to communicate complex financial data throughout an organisation. We've worked with a number of Finance clients over the years, and in that time we've seen all sorts of tactics aimed at solving the Finance communication problem. So, we've put together some advice to help solve this problem for you.
Use dashboards to communicate your reports:
Financial data is complex. By complex, we mean the data comes from multiple source systems and a lot of analysis and data crunching takes place in spreadsheets like Excel. So it's not surprising that it can be difficult for our colleagues in non-finance roles to understand how difficult it can be to prepare a report. As non-financial people, they will also find it difficult to understand the layout and format of Financial reports. By utilising visual aids, like dashboards, you can highlight the key information in an easily digestible format and share it easily with colleagues. By doing this you'll find you start to get a lot more engagement with and understanding of your report.
Tailor the data to your audience's needs: 
You probably have a number of different departments all wanting data specific to their requirements and with limited time and resources it can be difficult to cater to everyone's needs. Business Intelligence tools, like Tableau, can help you solve this problem by not only allowing you to easily house all of your data in one secure location but by letting you create different views accessible to only those who need them - creating a simple yet effective experience for your stakeholders. Trust us, there's nothing quite like the joy of an accountant who has been able to replace reams of Excel sheets with a convenient BI solution.
Provide context:
By providing context, your audience can understand the broader implications of your data. This context can come in many different forms but some of the most effective are comparisons to previous periods, agreed KPIs and industry benchmarks. It can also be helpful to offer explanations when there are unusual fluctuations or changes to the data. By far the easiest way to do this is by presenting the information in a dashboard that will allow you to easily insert comparisons and explanations where needed.
Encourage feedback: 
The best way of creating a system that works is by asking the end user how the solution works for them. If you have a good base solution, you can use stakeholder feedback to hone the solution to perfectly fit your stakeholders' needs. 
Automate your data crunching:
Unpick your spreadsheet processes so you can begin to use tools like Tableau or Alteryx to create workflows to ensure your repeatable processes are generated automatically every month. This will save you days of time each month, which you can use to analyse the data sets and dashboards. There are several analytics tools on the market that facilitate reporting automation which can help you maintain reporting consistency.
Democratise and secure data access:
Creating easy access to financial data doesn't mean having to sacrifice security. Quite the opposite, modern data visualisation tools provide role-based security so you can ensure sensitive data is only accessible to those who need it - avoiding the need to share passwords for encrypted Excel files among team members. This can be done at scale too - we've worked on enterprise level projects where 100+ dashboards were created, each one only accessible to the relevant department manager and the company's CEO.
Make the data easy to understand: 
It's likely that whoever you're trying to communicate your data to is busy. Make life easier for them and increase the likelihood that they'll actually pay attention to your report by making the information easy to digest. Two things we've found effective here are simple, visually appealing dashboards and the use of straightforward jargon-free language. For instance, take the two below images, the first is raw data comparing Rugby players James Lowe and Josh Adams' performance and the second is a dashboard displaying the same information. Presenting information in a format similar to the first image means the user has to spend a lot of time and energy trying to understand the data whereas the data presented in the second image quickly communicates valuable insight.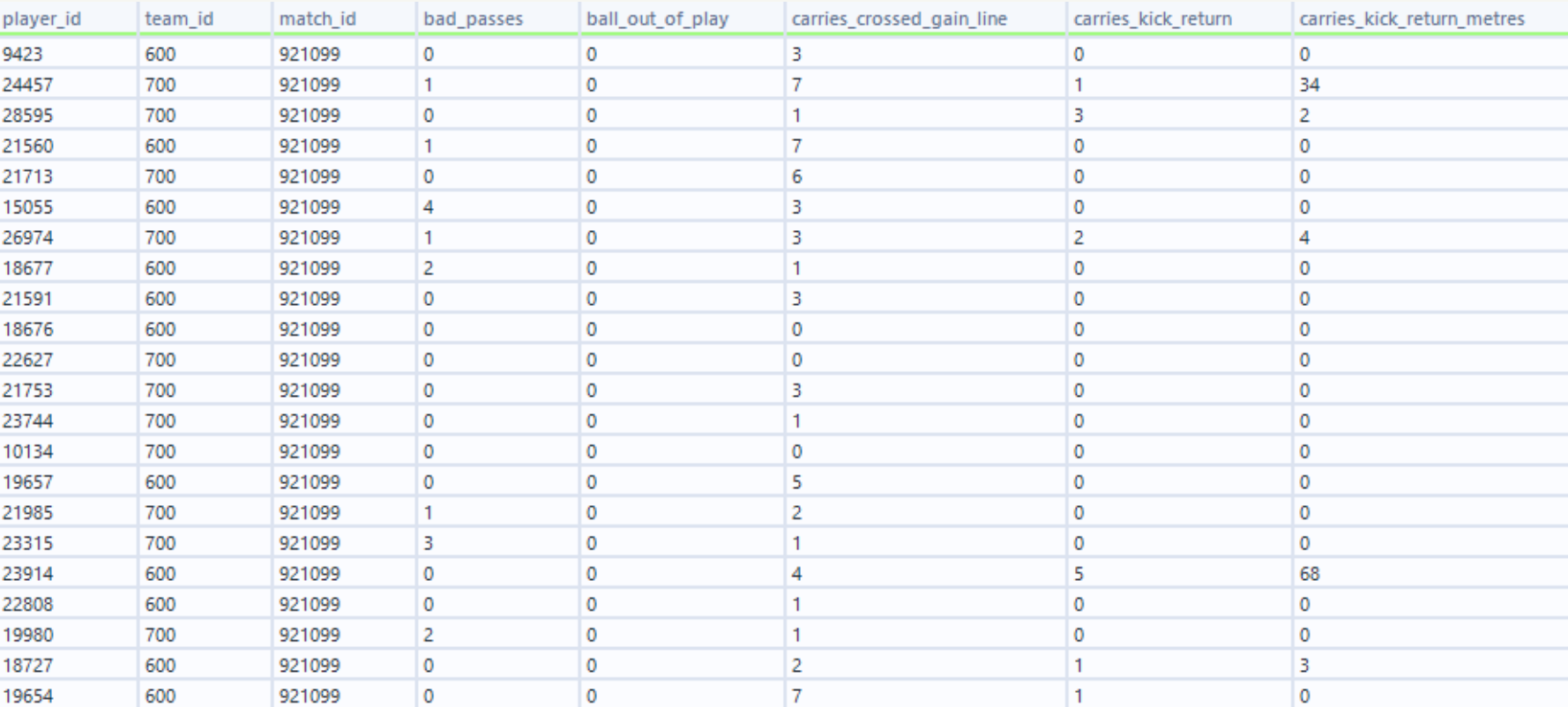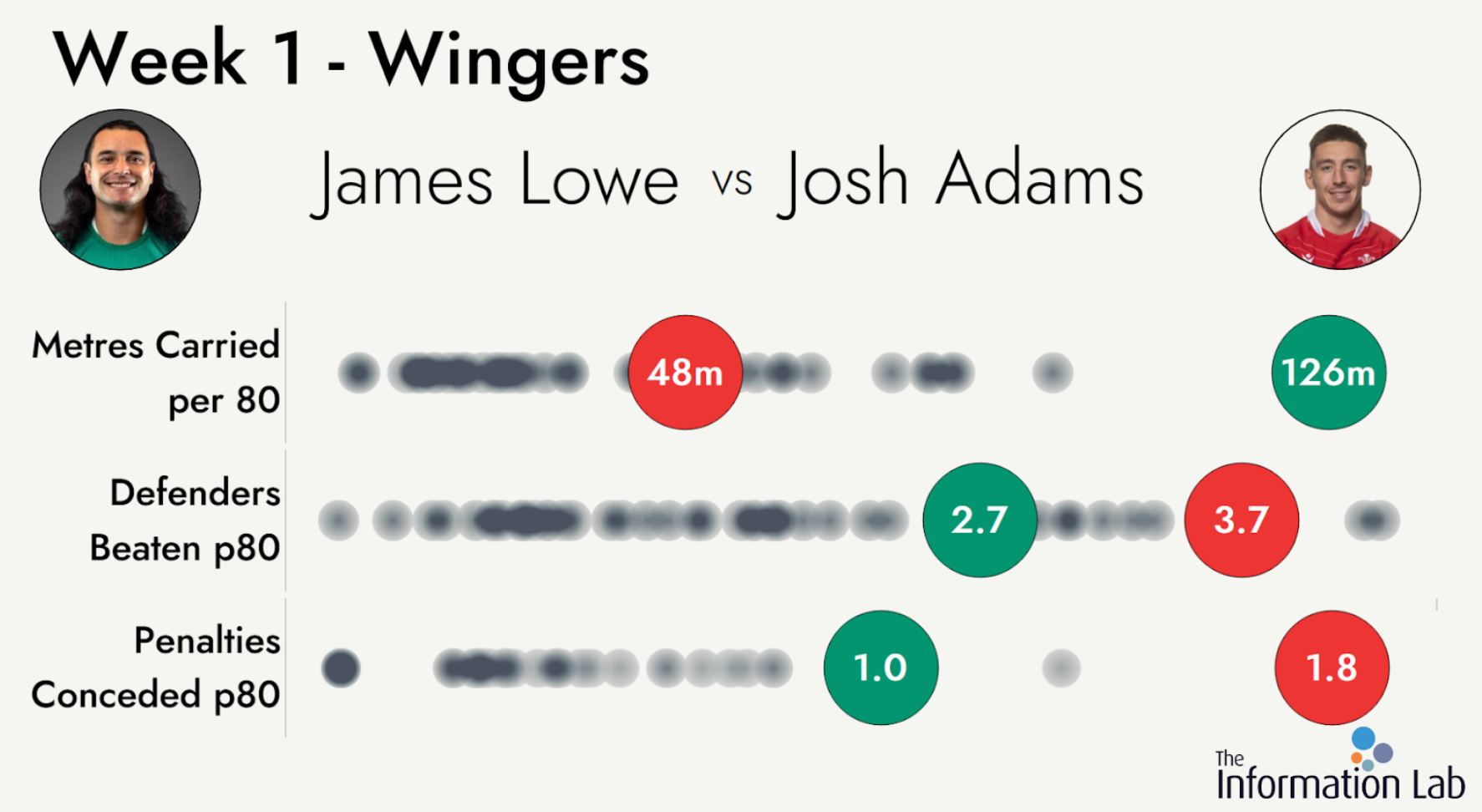 Be transparent: 
Transparency is key when communicating financial data. Make sure that stakeholders understand how the data was collected, what assumptions were made, and any limitations of the data. The assumptions, report call-outs or supporting notes can be included as notes on each dashboard. 
By utilising the above advice, not only can you save you and your team a lot of time and cumbersome work, but you can start to create reports that can have a real impact throughout your organisation. And by creating real tangible business benefits, you can show your wider organisation what heroes the Finance team really are.